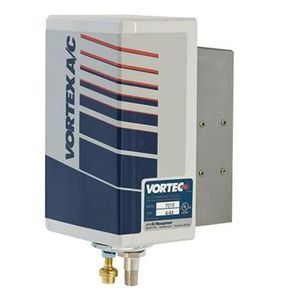 Highly reliable, cost effective enclosure coolers.
Vortex A/C Coolers incorporate the most up-to-date features into Vortec's line of highly reliable, cost effective enclosure coolers.
All of Vortec's Enclosure Coolers keep Electrical and Electronic Enclosures cool, clean and protected and are a low cost alternative to expensive, high maintenance air conditioners; and avoid contamination with dirty, humid air caused by fans.
Sleek, modern design
Noise reduction of 78%, when compared to other vortex enclosure coolers
Energy use reduction through its integral mechanical thermostat
Quick and easy installation in about 5 minutes
Flexible installation: top, side or front (door) mount
The Vortex A/C is available in 4 different cooling capacities, and ratings of NEMA 12, NEMA 4/4X and Hazardous Location Duty (Class 1, Div 2).
Features
Small footprint to fit on all enclosures and in confined areas
Top, side or front (door) mount models available
Maintain temperature between 80 - 90 deg F
Supplied with air filter and ducting kit
Maintains slight pressurization in the enclosure
UL Listed
10 year warranty
Benefits
Thermostatically controlled to maintain enclosure temperatures within ideal range
Highly reliable, with full 10 year warranty
No ambient, dirty or humid air enters the cabinet
Can be used on all cabinets, even in tight spaces
Easy to install, takes about 5 minutes
No wiring required to install
Operates in environments up to 175 deg F
Low cost, compared to Freon air conditioners
Reduce operating cost with mechanical thermostat turning the unit on only when necessary
Very quiet, 62 dBA operation, 78% quieter than typical vortex coolers
Multiple cooling capacities available, to optimize performance and operating cost